---
Preferred payment method: cash
Also accepting: check, credit card, Paypal
Clients who refer a new client to me receive a FREE 20 minutes added to a future massage! No limits!
818.421.0597 (no texts)

---
Note: Prices do not include tips. Tips are not at all required, but are graciously accepted!

INCALL
At my place
OUTCALL/MOBILE
In your home

30-min session
Your choice of one or combo: massage, foot reflexology, MLD (for those without lymphedema) for detox/cleanse/immunity boost purposes

$35

2 or more people can book 30-mins at $50 each
60-min session
Same choices as above

$65

$80

90-min session
Same choices as above

$95

$110

Manual Lymphatic Drainage Therapy (MLD) for Lipedema/Lymphedema Patients

30-min session
60-min session
90-min session

$50
$100
$150

N/A
$125
$188

Cosmetic Surgery Post-Op Manual Lymphatic Drainage Therapy

Package Price

Package Price

Scented Hand/Foot Scrub

Add $10
Add $10

Deluxe 40-min Hand/Foot Treatment

$40

N/A

Private stretch/exercise instruction

Can be included in your session. Please ask for details!

Can be included in your session. Please ask for details!
Note: Professional massage therapists do NOT provide any form of erotic or sensual massage.
Services offered:
Swedish, foot reflexology, fibromyalgia massage, neck/back pain relief, cancer massage, cancer exercise instruction, hospice/Compassionate Touch, gentle Thai massage, lymphatic drainage/manual lymph drainage/lymphedema/lipedema therapy (Vodder method), medical/geriatric massage, sciatica/hip pain relief, chair massage, therapeutic stretching, stretching classes.

Employee chair massage or spa parties--offer chair massage for your employees, teachers, or for girls' night parties, baby showers, etc! Chair massages are done in a specially-designed massage chair, with the client fully clothed. I work out tight neck, shoulder, & back muscles for 10-20 mins each person. Options: the company pays 100%, the company & employees each pay 50%, employees pay me directly 100%. Your choice!
Gift certificates are always available. Surprise your loved one with the unique gift of a massage appointment!! Click HERE to purchase a gift certificate!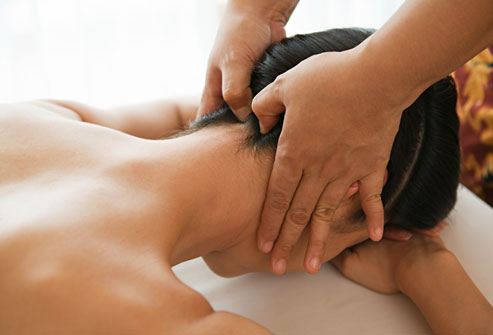 Massage appointments are available Mon-Sat. Same day appointments may not be possible, so please try to call as far in advance as you can. And please read my FAQs page prior to your appointment. Thank you! 818.421.0597 (no texts).