Purchase my homemade organic eye pillows and room/body sprays
I make these aromatherapy eye pillows myself, fill them with flaxseed and/or rice, and sometimes fragrant flowers and herbs. They are great for blocking the light when you nap, for reducing migraines or eye puffiness, or used chilled or warmed for sore muscles anywhere on the body!
Try purchasing a pillow along with my homemade room sprays. Spritz the pillow before using and you'll enjoy your favorite light scent while you rest with the pillow over your eyes!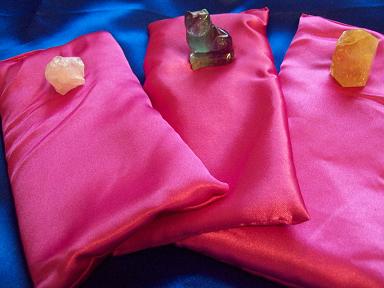 Only $8.00!

Purchase homemade aromatherapy room sprays made with organic essential oils and personalized just for you!

Each one comes in a pretty, 1-oz blue glass spritzer bottle with a bow. When it's empty, just bring it back & I'll refill it! These make wonderful gifts for men, women, & teens.
Just shake the bottle and spritz a few times in the livingroom, bathroom, car, on linens, even on tired feet! Your room will be filled with a wonderful, fresh scent that really lingers. It so much better for your body and for the environment to freshen/scent a room with natural plant and flower essential oils than chemicals in store-bought products.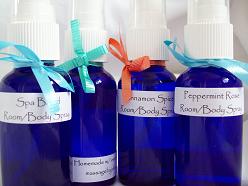 Peppermint, Clary Sage, Lavender, Spruce, Orange, Cinnamon, Grapefruit, Myrrh, Vanilla, Cedar, Frankincense, Balsam Fir Needle, Rose Geranium, Jasmine, Lemon, Rose, Ylang Ylang, Bergamot, Rosemary, Sandalwood, Roman Chamomile, Eucalyptus, Helichrysum
Only $5.00!
Or, choose one of these popular combinations: Frankincense & Myrrh; Vanilla-Orange; Christmas Tree Blend; Cinnamon Spice; Spa Blend...I can make up a personalized combo spray for you!